Winner: Apartment or Unit
ADRIAN AMORE ARCHITECTS for LOFT APARTMENT, WEST MELBOURNE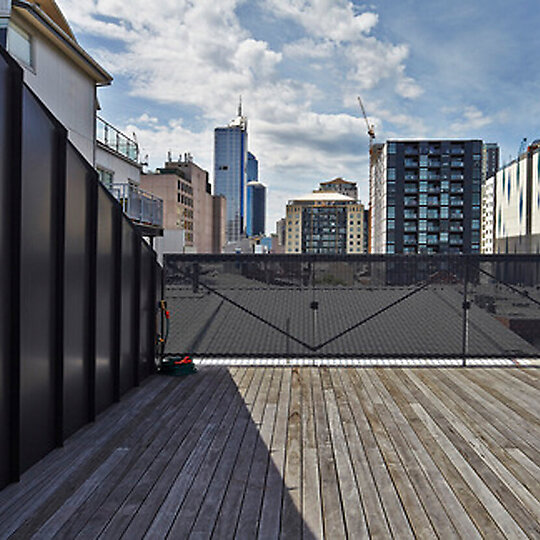 Walls sinuously move and bend through this loft apartment interior housed in a former butter factory, in West Melbourne.
A sculptural stair sits at the converging point in the space, twisting, and soaring up towards a recreational roof terrace which overlooks the city of Melbourne.
Jury Citation
This reworking of an existing loft-style apartment in inner Melbourne brings an operatic virtuosity to a conventional two-storey warehouse volume.
A modest corner entry is linked to the central space at the lower level via flanking curved walls, aligned to reinforce the diagonal view through to the opposite corner. The triple-height, light-filled living area is abundant with interwoven, curved, painted plaster surfaces, orchestrated by a sensual twisting staircase that serves the two main levels. An unassuming straight staircase provides access to an upper dining area and rooftop terrace on the third level.
The minimalist materials and colour palettes contrast sublimely with the complexity of the convoluted forms, and re-used elements are subsumed into the vitality of the new. Spatial layouts are relatively straightforward but also provide in-built flexibility and adaptability.
Resolution of the interior architecture has been fuelled by a strategic decision made during the design phase to remove a dominant restrictive roof truss, enabling access and usage of the rooftop area and the sculptural form-making that envelops the whole. This apartment is a masterful embodiment of form and function.