Winner: House Alteration and Addition under 200 square metres
Maddison Architects for Cabin 2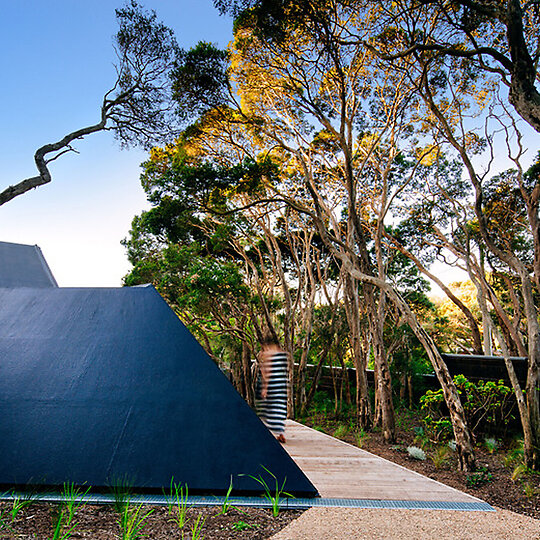 Cabin 2 is a self contained retreat to an existing 1960's log cabin situated among a dense collection of indigenous Moonah trees, on a sloping site. The design conveys a structural and architectural honesty that is driven by the site topography, orientation and vegetation.
Jury Citation
Cabin Two expresses a structural and architectural honesty that extends to every part of the project.
By freeing Cabin Two from connecting to the existing 1960s log cabin, the architects have allowed it to respond to the site, its orientation and vegetation. This freedom has created a completely new set of geometries. When accessed from the garage, which grows out of the topography and opens to the views, Cabin Two appears as a closed and folded roof.
The materials selected for the project convey an architectural and structural honesty that moves from the exterior to the interior. Externally the exposed laminated beams anchor the project to the site.
The possible complexity of the geometries created by folding forms have been embraced and simplified with a delightful and calm interior, achieved with the use of a simple and rigorous palette of natural materials. By carving the project into the site, intimate, well-planned spaces have been formed. These open up to the views and allow unique spaces for both connection and privacy.