Winner: New House over 200 square metres
Peter Stutchbury Architecture for Invisible House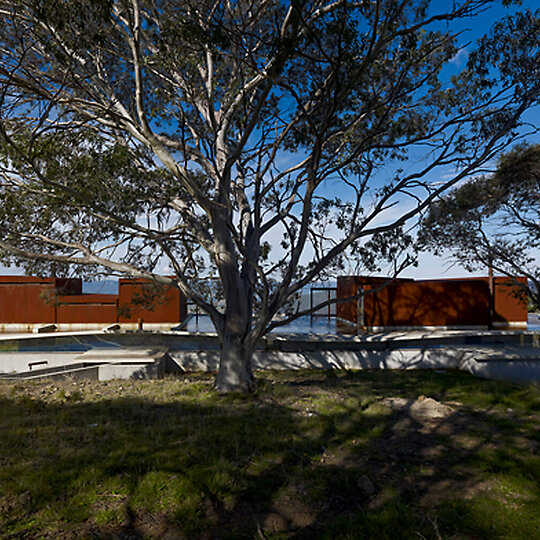 Invisible House is located on the western edge of the eastern mountain range of Australia, seamlessly integrating into its surrounds. The rusty steel boxes recall old farm equipment; the undulating curves of the roof slab emulate the rhythm of the encompassing hills; and the flooded roof reflects the sky.
Jury Citation
New houses have the opportunity to explore form, orientation, planning, exterior and interiors. A great house does this with no corner ignored, with as much emphasis on space as on object, function and form, indoors and out. At the Invisible House we find a collection of spaces that are distinct from one another, but which feel as though they belong together - open spaces are balanced with enclosed, long with short, horizontal with vertical. This is achieved through a masterful command of material; primarily local stone, concrete and wood, and a pared-back yet crafted approach to detailing. This approach extends from the bathtub to the roof, were water puddles before flowing through troughs to drop onto the landscape.
The jury was impressed with the great variety of spaces created in a small footprint, as well as the level of restraint in the work and thus the cohesiveness achieved. Doing neither too much nor too little has resulted in a new house that feels as though it were always part of this timeless landscape.