Winner: Apartment or Unit
Chenchow Little for Darling Point Apartment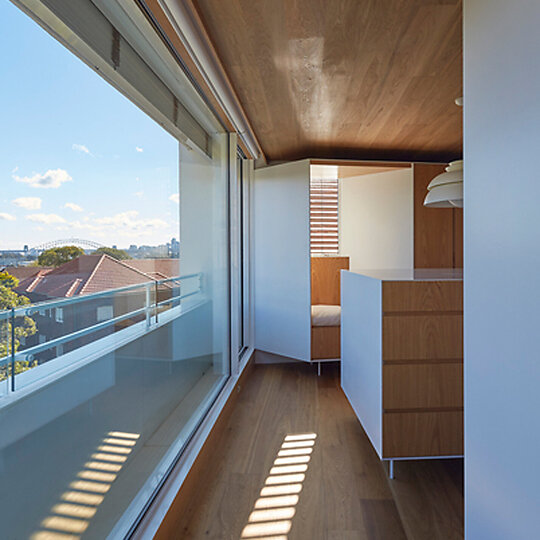 This apartment fit-out is designed for empty-nesters who wanted all the features of their original family home within a significantly smaller footprint. The client's extensive artwork collection is innovatively displayed within flexible joinery, allowing the client a curatorial role with its display.
Jury Citation
Designed to house an extensive art collection, this apartment fulfills the pragmatic brief through the considered design of the many joinery pieces that open to reveal paintings by Jeffrey Smart, John Coburn and Lloyd Rees. The design delivers a beautiful, warm and refined interior punctuated with some quirky surprises.
The bright Esther Stewart artwork in the lift sits in contrast to the refined interior of floating American oak and painted white steel joinery that defines each room and elongates the sense of spatial depth within the small interior. The timber of the joinery is repeated on the floors and ceiling, intensifying the contrast to the views of the harbour beyond. The monochrome palette of the main interior is contrasted against the handsome bathrooms, each of which is unique in its design and picks up on the colours and motifs from the bold lift artwork.
The design is driven by an appreciation of art and architecture, and there is nothing formulaic about it. Far from the stark, white interiors often found in art galleries, the apartment celebrates the selected artwork but has retained the warmth and character of a home.