Winner: House in a Heritage Context
panovscott for Jac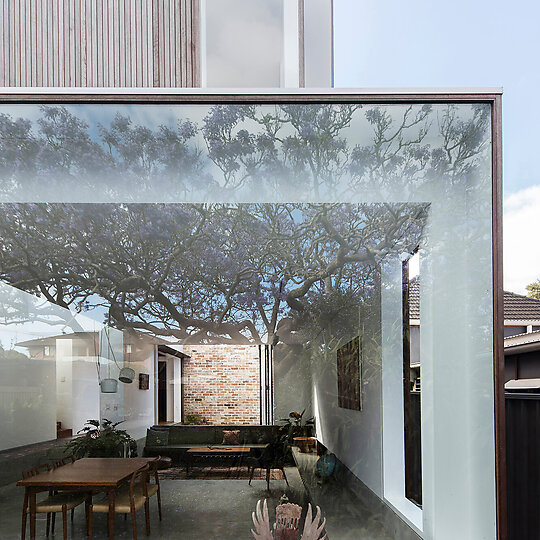 This project is for the transformation of a place via the insertion of a new structure between two that already exist. The first being a federation era four room cottage, whilst the second is an astoundingly sculptural jacaranda tree, which predates the cottage.
Jury Citation
The house in Dulwich Hill by Panov Scott was unanimously selected as the winner of the heritage category.
In this wonderful project, the key criterion of delivering an excellent design outcome within a heritage context is achieved many times over, from initial concept to completion. Of great interest is the manner in which the designers have insightfully demonstrated their ability to identify, understand and articulate what they believe to be the critical heritage aspects of the site, but without statutory controls or guidelines present for those elements. In turn, they have used these elements to underpin a very "real" project in response to a client brief.
By adding a beautifully configured, two-storey companion building to the rear of the existing four-room 1907 brick row house (one of seven), the architects have skillfully crafted architecture that is intimately integrated with the site, the heritage origins and the immediate landscape, enriched as it is by an impressive jacaranda tree.
As a demonstration of focused, high-level design skills, this project is exemplary. It shows – without doubt – that a sophisticated design approach will produce a particular and personally fulfilling architectural outcome.