Winner: New House under 200 square metres
Branch Studio Architects for Balnarring Retreat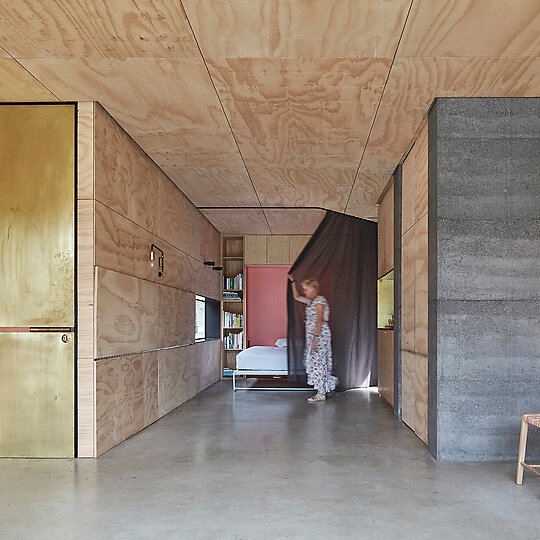 Required to switch between a nondescript 'studio' space and a functioning private residence all within the theme of retreat.
The space can be divided or united by low-tech components contained within the walls which fold to transform program.
Connection with nature is important... the birds, frogs, water, ducks and vegetation.
Jury Citation
Balnarring Retreat is a humble, hardworking dwelling that offers flexibility in use through cleverly crafted, simple, low-tech operable systems. Whether used as a studio or private residence, it is a place to slow down and retreat from the frantic pace of contemporary life.
The honest materiality creates a simple palette, strengthening the dwelling's connection with the surrounding native landscape. The jury was taken with the idea that this compact and efficient building could be easily adapted to suit multiple and varied locations – a prototype for considered, easy-to- construct and affordable homes. This little retreat reminds us that you don't need much space or technology to enjoy the pleasures of life.
The building is a delightful response to a complex brief and limited budget. It relies on the simplicity of an efficient plan and raw materials to create a delightful building that looks set to become an integral part of the landscape in which it has settled.