Winner: Australian House of the Year
Partners Hill for Daylesford Longhouse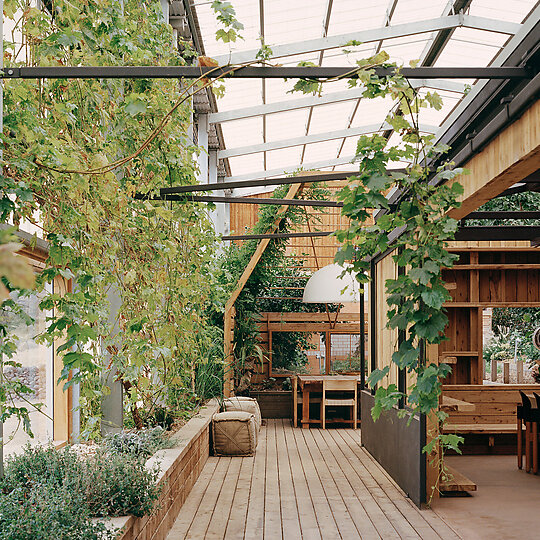 As an operational farm house, this project had to take account of many pragmatic factors while still delivering some life enhancing charm. Though the large volume is scaled to sit well within the large landscape, it also enables water harvesting, protection from blistering conditions and other rural realities.
Jury Citation
The Daylesford Longhouse by Partners Hill is more than a remarkable home - it's also a hardworking farm building, a verdant greenhouse and a new business setup, all within the confines of a 100-metre-long shed. The opportunity to create a generous volume within a singular footprint is cleverly exploited and the timber and brick buildings within the shed form an internal terrain. The contrast between the scale and character of the industrial building and the craft and detail of the internal structures is unexpected yet delightful. The scale of the shed responds to the expansive landscape setting, but once you're inside, it shifts to the human scale, making it a comfortable space in which to live and work.
The shed structure creates a microclimate that protects the productive garden from the harsh climatic conditions and can be opened up completely as weather permits. Standing within the shed's garden gives you the unusual feeling of being simultaneously outside and inside - you could walk around the internal gardens in socks, but you're sitting surrounded by mature trees and vines.
At the eastern end of the plan, a modestly sized living quarters is a space to hunker down at the end of the day, where views of the landscape are carefully controlled and proportions are only as big as they need to be. A small "verandah" forms the transitional space between inside the living quarters and the rest of the building. Ladders and stairs lead the way to spots to sit and drink a glass of wine, various forms of guest quarters and storage spaces. There are many ways of being at home in this house.
At the Daylesford Longhouse, a simple, yet compelling idea is executed in its purest form and the design intent is palpable at every turn. It is a sanctuary for retreat and seclusion, but can be easily transformed into a place for large groups to explore and enjoy. This home is the Australian House of the Year for the commitment by the architect and client to the design intent, their innovative approach to a relatively complex brief and its joyful collection of architectural expressions.