Winner: House Alteration and Addition over 200 square metres
Owen Architecture for Brisbane Riverbank House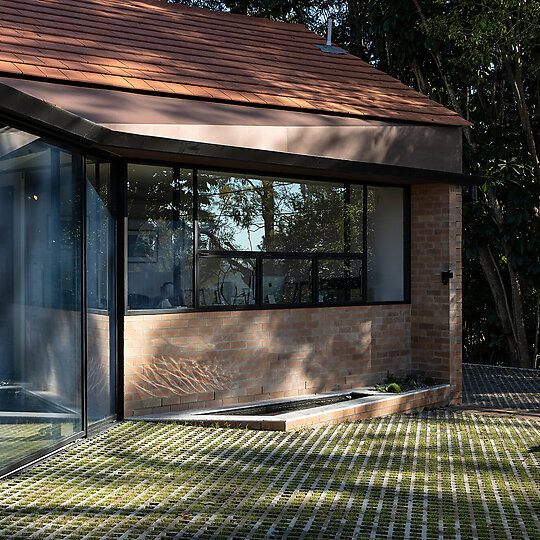 This project creates a building embracing its Australian bushland context.
The design creates two large courtyards by placing a new living-pavilion next to an existing 1930's house. The new buildings uses earth-based materials ... brick and terracotta ... in response to its earthy context of riverbank and overland flow gullies.
Jury Citation
Set atop a gentle knoll on the edge of a riverbank, Brisbane Riverbank House is an addition to an existing home for a car collector who had asked for a dwelling that would enable a simple way of living, with spaces for family and friends to enjoy together.
The house features two large courtyards that are finely calibrated in response to the site and the levels that organize the plan. The riverside courtyard is a level lawn courtyard with social spaces around it, all of which overlook the river. Diverse living spaces, indoor and outdoor, offer different functions and experiences. The street-side courtyard is a large entry court that is precisely depressed and outlined. It deftly accommodates vehicular movements and storage while offering a quiet integrated setting for the existing house.
The design accommodates a significant amount of addition with ease, grace and human scale. It is a masterful balance between traditional elements of the existing 1930s home and a contemporary living landscape that greatly expands life's possibilities on this suburban site.