Winner: New House over 200 square metres
Partners Hill for Daylesford Longhouse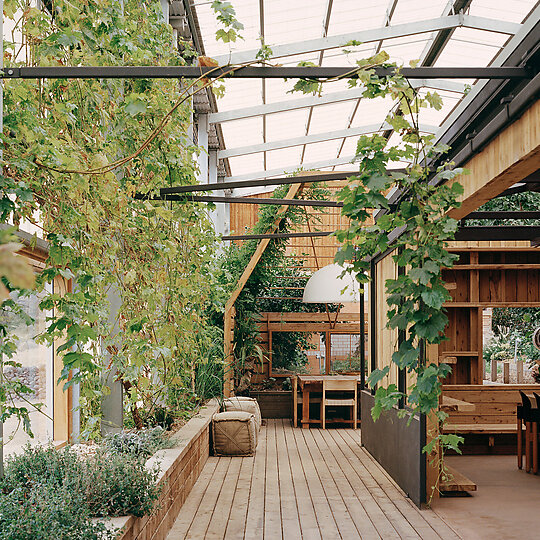 As an operational farm house, this project had to take account of many pragmatic factors while still delivering some life enhancing charm. Though the large volume is scaled to sit well within the large landscape, it also enables water harvesting, protection from blistering conditions and other rural realities.
Jury Citation
Daylesford Longhouse by Partners Hill is an uplifting home that was generated from laterally thinking about a novel and challenging design brief. Although the project is more than 1000m2 in size, the footprint of the living quarters is only a very small proportion of this space and the majority of t he floor area is given over to a leafy, productive garden. The journey through the 100-metre-long shed takes you from the working farm to the cosy living quarters, with layers of mature trees, vines and other plants growing in all the spaces between.
Farm properties usually comprise a series of buildings dotted throughout the landscape, with all the various functions separated. Containing all three elements - a home, a commercial cooking school and a working farm building - within the one prefabricated shed structure cleverly removes the need for waterproofing the buildings within. The modular way that the Daylesford Longhouse is pieced together gives the impression that the shed might be extended in the future to contain more garden or accommodation spaces. This project is inventive in every way and would be a delight to inhabit.