Winner: Australian House of the Year
John Ellway for Three House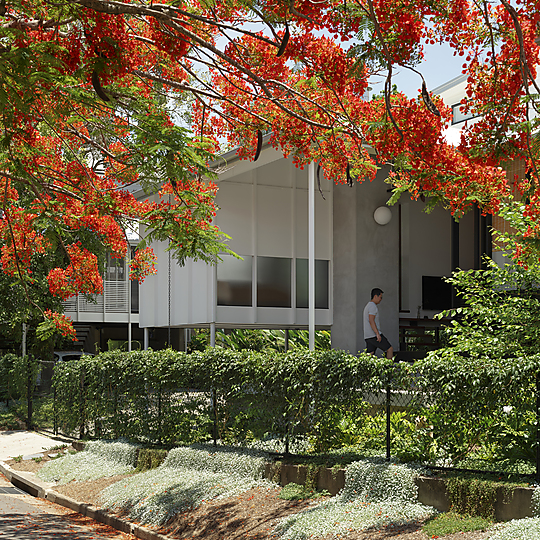 Navigating a flood prone gully, the plan is broken into three elevated platforms, all places to sleep. Each shaded by a pyramid roof to reduce scale and complement neighbouring cottages. A series of verandah-like living areas gradually step closer to the ground to connect to the lush backyard.
Jury Citation
Three House by John Ellway is a deceptively simple new house, the genius of which lies in the rigour of the planning decisions and in the detail resolutions. Set on a flood-prone gully in Brisbane's Paddington, the house is broken into three elevated sleeping platforms connected by a series of verandah-like living zones. This efficiently planned house belies the bounds of its physical dimensions by borrowing light and space, and by firmly connecting its internal spaces to the surrounding neighbourhood context. Living spaces have been raised above street level in response to the site conditions and to maintain privacy.
The three pavilions are shaded by pyramid roofs with deep overhangs, a requirement of strict character guidelines. Although this classic roof form is contextual to suburban Brisbane, it also demonstrates the influence of Japanese design on Ellway's practice. The elegantly proportioned square modules are punctuated by landscaped courtyards, and this connection is enhanced by doors and windows that slide away, vertically and horizontally, to embrace the outdoor spaces and the street beyond. In the bedrooms, a series of deftly detailed sliding panels can be moved up and down to control the level of privacy required at any given time.
One pavilion – a self-contained granny flat – is detached from the other two, a move that adds flexibility to the configuration and use of the home, now and into the future. Three House could feasibly be adapted into three houses. This consideration for adaptability is not only commendable, but also imperative to long-term sustainability.
This resourceful home reminds us that you don't need an excessive amount of money nor a large footprint to live well; nothing here is superfluous and every detail is carefully considered. Immense joy is found in small architectural moments, such as a tree shadow cast across a wall, and daily rituals, such as the retreat into a calm sleeping zone after a long day. Quiet and understated, this house demonstrates ingenuity in making design look at once effortless and refined.