Winner: House Alteration and Addition over 200 square metres
Vokes and Peters for Highgate Park House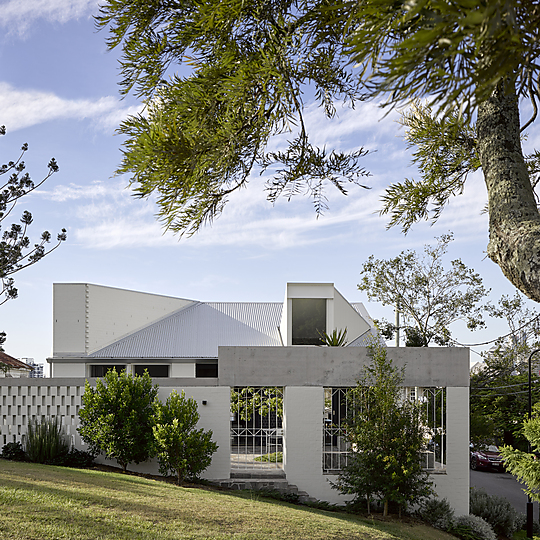 Highgate Park House was built for a young family. The owners have roots in the area and were consciously attempting to reconnect with the suburb and its cultural traditions.
Jury Citation
This Brisbane home has a civic presence that contributes to its park-side locale. The new additions translate the form and scale of the original weatherboard cottage with a robust materiality that is fitting of both the heritage of one of the owners and the migrant history of the neighbourhood.
The arrangement of private and shared parts of the house is planned with exceptional clarity. Generous living spaces, designed to accommodate extended multigenerational family gatherings, continue into delightful walled gardens. Considered apertures in the brick and concrete boundary walls provide privacy yet also allow engagement with, and passive surveillance of, the street. An elegantly detailed metal gate offers access to and from the adjacent park. The beautifully articulated design response inverts what might otherwise have been a defensive approach to an exposed corner site.
This thoughtful project takes advantage of its site, not only for the benefit of the young family who lives there but also for the enrichment of the immediate neighbourhood.