Winner: House Alteration and Addition under 200 square metres
Zuzana & Nicholas for Annerley House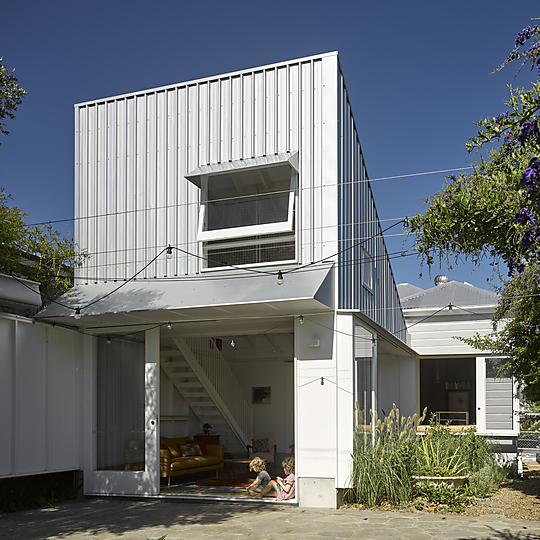 Annerley House is a renovation and extension to an existing cottage that suffered from a poor connection to the backyard and introverted public rooms. The new extension was conceived as an outdoor room that when open, would become part of the garden and connect the house to its setting.
Jury Citation
Annerley House is a joyful addition to a Brisbane cottage, a transformation that demonstrates the effectiveness of thoughtful architecture at any scale within our suburbs.
Zuzana and Nicholas has shunned the single-room, open-plan rear addition in favour of making a delightful series of indoor and outdoor rooms. This whole-of-site approach acknowledges the traditional planning arrangement of the cottage and establishes a contemporary response to the garden, within limited means.
The garden's presence within the home is heightened via varied threshold conditions – a generous concrete window seat, a finely crafted bay window and multiple "lookouts" from the library eyrie – allowing connectivity and framed views between the different rooms of the house and the garden.
As part of the transformation, traditional elements, material choices and construction techniques are reinvented, resulting in an intelligent and playful dialogue between new and old.
It is easy to imagine spending an afternoon at Annerley House, or sharing a meal around its kitchen table, and it is this ease that demonstrates the architect's immense skill in facilitating not just the architecture, but also the life to be lived within it.