Winner: New House over 200 square metres
Edition Office for Federal House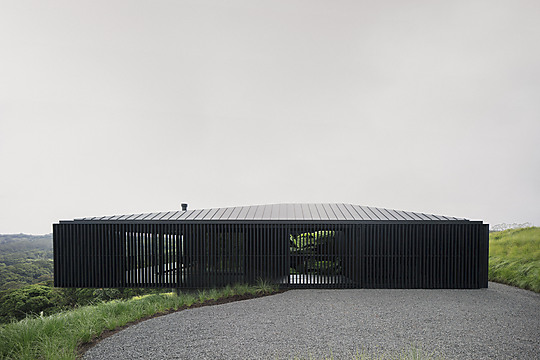 Within the hills of its hinterland site, the Federal House aims to facilitate a highly experiential relationship with its surroundings while remaining consciously aware of its outsider and temporal status within the deep timelines of that landscape. Open-air halls encircle a central fern garden, falling to a sheltered, subterranean pool.
Jury Citation
Located on a sloping remote landscape, Federal House is both hard and soft. The existential experience of inhabiting this ancient landscape is acknowledged through the confidence of the building as a discrete object, announcing "I am here." However, the quiet and elegant form is the first mediation between inside and outside: the apparent solidity of the object is deconstructed by fine-grain timber battens.
The interior experience of this house might have been a neatly contained but detached experience of one's surroundings. Instead, the interior establishes a layered connection to place and between overlapping activities. This is achieved using a deep veranda-like space that converts the hallway into a covered outdoor room, a type used similarly in colonial homestead buildings and, more acutely, in Asian architectures as layered and sheltering threshold spaces.
The section anchors the house to the site in the lower-ground spaces and has a reciprocal anchoring effect on the user, controlled through interiority and human scale. Literally grounding the project is a sheltered black-concrete subterranean pool, linked to a planted void at the heart of the home. From the entry above, this void allows glimpses through ferns to the still body of water beneath. Federal House recovers the calmness of shade and shadow where only certain textures become available, such as the silver patina of the crown of wood grain.