Winner: New House under 200 square metres
John Ellway for Three House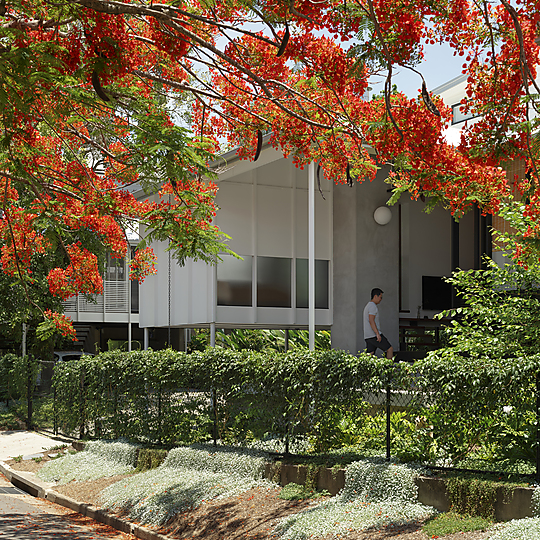 Navigating a flood prone gully, the plan is broken into three elevated platforms, all places to sleep. Each shaded by a pyramid roof to reduce scale and complement neighbouring cottages. A series of verandah-like living areas gradually step closer to the ground to connect to the lush backyard.
Jury Citation
Three House reposes easily in its treed, undulating inner-Brisbane suburban setting. It is without pomp or grandeur, yet beneath the surface lies a compelling logic. The 197-square-metre house is potentially three homes: a primary house, a studio and a granny flat or teenager's retreat.
In its even striding over the site, the house establishes diverse outdoor spaces – using space to both separate and focus internal activities – while at the same time allowing passage for surface water flow down the site's central landform, a gentle gully.
The house responds to the visual character code of the neighbourhood, which controls roof shape and verandah positions and dictates the use of lightweight timber detailing. A series of pyramid-roofed pavilions is rhythmically patterned without fuss, able to open and close to site opportunities and to momentary user responses to weather or privacy. Floor plates step to connect to the ground plane, establish undercrofts or frame different prospects. Detailing is pared back; inventive yet traditional. Vertical sliding shutters give all enclosed spaces a verandah-like experience. This house breathes beautifully.
Built from low embodied energy materials, adaptable and affordable: this is an architecture we can all learn from. Three House is informal yet elegant, rambling yet constrained; an easy Australian house.