Winner: Sustainability
Peter Stutchbury Architecture for Night Sky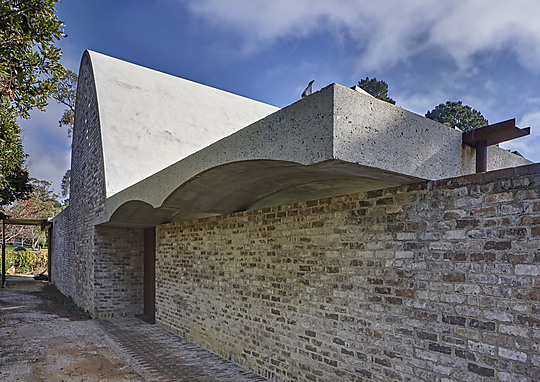 Night Sky – Powerfully singular and connected to nature and place, this small residence, a tribute to the team and challenges less-is-more. Memorable outcomes are achieved with restrained means, art and architecture are as one.
"I discover contentment and fulfilment in my mountain cabin" Basil Borun, client.
Jury Citation
Night Sky by Peter Stutchbury Architecture is a modest home; unique, sustainable, biophilic and fit for purpose. It produces all its own energy, collects its own water, is made in large part out of recycled materials, connects to its local context and uses low-toxic finishes and fittings. Low-water gardens are planted with drought-tolerant indigenous species that support local biodiversity. Additionally, the house is fully accessible, designed to enable its occupant, who lives with a disability, to feel connected and at ease.
The home celebrates the local economy. The majority of its materials are Australian-made, recycled and obtained from within a 120-kilometre radius, and 75 percent of trades were sourced through one contractor. This minimizes carbon emissions related to travel time while also supporting local businesses, many of them craftspeople and makers.
The design is efficient not just in its planning, but also in its ability to stabilize temperature passively. Recycled double-brick and insulated walls store and release heat, and the skylight in the central vaulted parabolic room enables two-way ventilation.
Night Sky is equipped with 63 photovoltaic panels with 20 kW of power generation and 34 kW of storage. It uses evacuated tubes for hot water, minimum electronics, low-energy fixtures and 12-volt lighting. The home collects, stores and filters 60,000 litres of rainwater at ground temperature.