Winner: Australian House of the Year
Studio Bright for Autumn House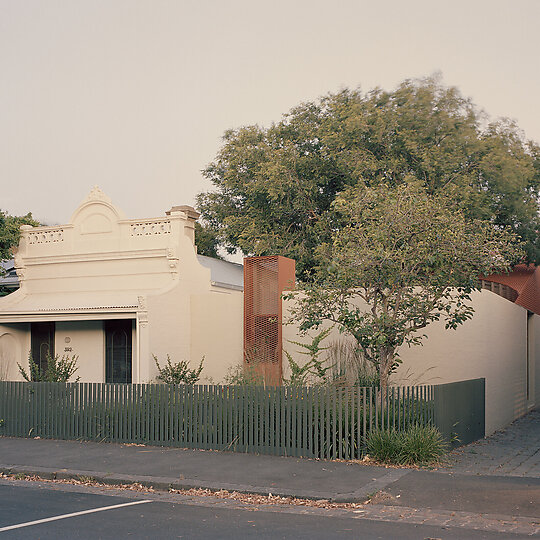 Autumn House negotiates the need for refuge, retreat, and privacy while engaging with its urban context. An extension to a Victorian terrace with a 1980's renovation by architect Mick Jörgensen and a mature backyard elm tree, the project adds a new layer carefully stitched into and around these constraints.
Jury Citation
Autumn House is a superbly executed update to a Victorian terraced house in Melbourne's north. The design grapples with many of the problems that constrain alterations and additions to terraced houses and succeeds in establishing outlook, private outdoor space and a generosity to the public realm in a densely populated inner-suburban setting.
The project responds to a common brief with uncommon skill, finding cohesion across a multifaceted design response. Every space has been resolved with care and precision, and the design unites three distinct eras: the formal order of the Victorian home, the warmth and intimacy of the 1980s extension by architect Mick Jorgensen, and the contemporary additions that hinge around their garden connections.
The planning of the new layers capitalizes on the potential of the site. Walls are pushed out to the boundary to maximize usable area, and gardens are carved into the plan to embrace a northern outlook and preserve a mature elm tree. Ground-floor living spaces are pulled apart to amplify garden outlook, with porous thresholds that draw you through the site and offer views between rooms.
A second-storey addition is pushed to the rear laneway. This singular, wedge-shaped form respects the scale of the street while accommodating the new rooms of the brief. This confident move does not confuse respect for the existing house with submissiveness; instead, it preserves the best heritage elements while responding in a wholly contemporary language. Over time, its delicate russet screen of expanded mesh will become engulfed by greenery, creating a planted enclosure that rises up from the brick perimeter wall.
The walled site achieves the desired privacy, and yet it simultaneously enriches the public realm. This generosity is achieved principally through the garden spaces: a curved front fence improves the corner for passers-by, while the planted mesh adds a welcome burst of greenery to the rear laneway. The retained elm is visible from the street, encircled by the new home, its leaves registering seasonal change. In summer, this tree conceals the new work, and in winter, the enigmatic form behind it is revealed.
Autumn House's multiple successes in this year's awards testify to the comprehensive design thinking that underpins the project. The jury admired the richness evident in every room, the successful integration of house and garden, and the respect shown for layers of history. This house is a stand-out example of what can be achieved in the imaginative reworking of the humble terraced house, and it is deservingly named 2022 Australian House of the Year.