Winner: Australian House of the Year
Michael Lumby with NIELSEN JENKINS for Merricks Farmhouse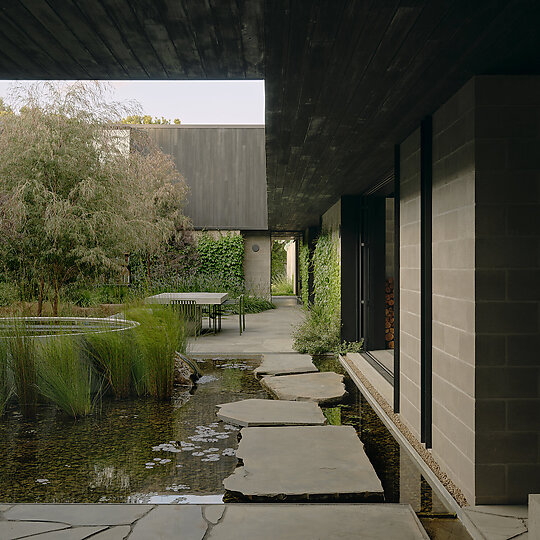 Sited on a prominent hilltop overlooking Western Port Bay, this house explores ideas of prospect and refuge within an expansive and exposed landscape. The programmatic arrangement connects it to this outward view but also captures a central courtyard which enables equal priority to a more introverted relationship to landscape.
Jury Citation
This courtyard house on Victoria's Mornington Peninsula harnesses the many opportunities of a large coastal site to support a restorative experience of place. Blessed with the luxury of space, the design's adept handling of scale achieves a domestic ease that is hard to perfect on large sites. A decisive form and robust materiality are elevated by precise detailing and meticulous execution, achieving a building that is at once an ambitious and accomplished architectural project, and a warm and welcoming home.
The jury was captivated by the consummate interlacing of house and landscape, which instils calm and equilibrium in the home. Living, sleeping and bathing spaces capture views of outdoor rooms and private courtyards, framed by the home's elemental walls. Vistas of immediate and distant landscape enable individual introspection, as well as enriching connections with place and with others – qualities that we all seek out in a post-pandemic world.
Merricks House explores the idea of the farmhouse as a place of elemental shelter. A large, pitched roof unifies the residence, its deep eaves providing protection in all weather. Externally, this reads as a singular and solid form, but within the house, dramatic incisions introduce volume and offer glimpses of sky through the depths of the roof. These sculpted fissures achieve spatial drama and richness, and they connect occupants to both ground and sky.
A material palette of concrete, charred timber and oak joinery is both hardy and understated, elegant in its restraint. There is a comfort and a familiarity in this house; simplicity and solidity are its strengths. It is easy to imagine spending the day here, surveying the stillness of the courtyard from the sunken lounge or watching the summer evening sun descend over the bay from the covered terrace.
Composed with confidence and clarity, Merricks House is deservingly named 2023 Australian House of the Year.