Winner: Garden or Landscape
SAHA for Coogee Courtyard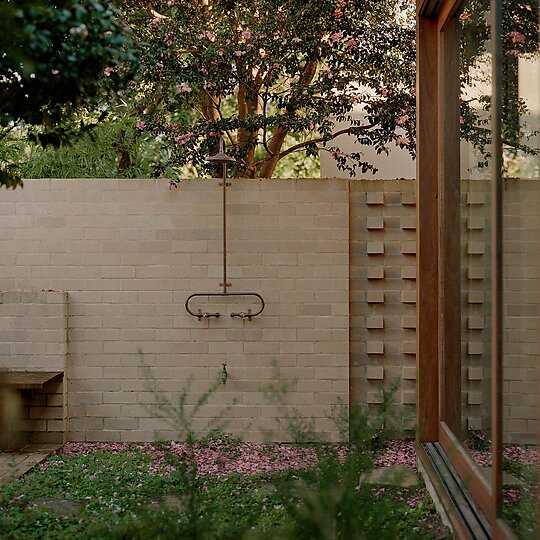 This project is an exercise in subtraction. In increments, a large addition and double-car garage had consumed what was once the house's backyard. By removing the garage and maintaining a perimeter wall, our project creates a courtyard oriented towards the path of the sun.
Jury Citation
This understated courtyard space is a timeless and carefully considered landscape intervention.
Engaged with an initial brief to build more space for a growing family, the design team's counterproposal was to practise the art of undoing rather than accumulation: removing a two-car garage to permit the reinstatement of the home's primary outdoor space.
In the new courtyard, a modest selection of materials is enhanced by highly considered details and the delightful play of light and shadow. This is a place for pause, for sitting in the afternoon sun to watch dappled light move across the courtyard. A covered verandah, open-air garden, outdoor shower and dining area offer ample flexibility and encourage the occupants to use this outdoor room as part of their everyday living space. Parking for bicycles and electric vehicle charging is also provided, but vehicle use is secondary to family participation in the courtyard. This is a scheme that prioritizes people over cars: a human-scale response to what could easily have been another garage on a tight block.
Warm and delicate, this space has been realized with restraint and care. This is a commendable example of correcting overdevelopment in the suburbs, and it demonstrates the possibilities of doing more with less.