Winner: Emerging Architecture Practice
Other Architects for Highlands House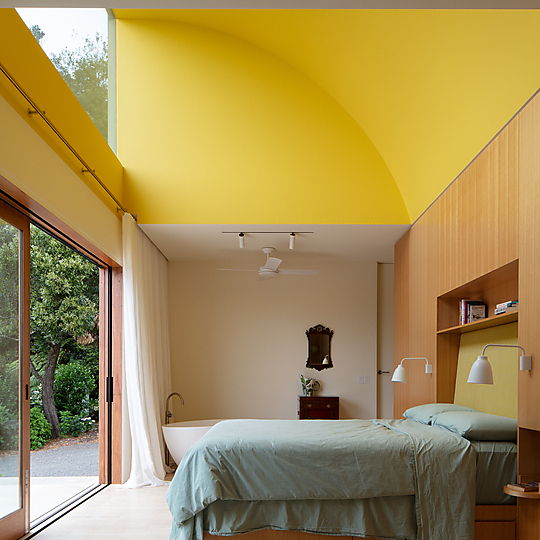 Highlands House offers a different experience of living in the landscape to that of the quintessential modern Australian house. It is loose-fit rather than functionalist, soft and inviting rather than hard-edged, its environmental performance features integrated rather than expressed. The house sits quietly in its place within an established garden.
Jury Citation
Other Architects, led by directors Grace Mortlock and David Neustein, is recognized as a joint winner of this award for the practice's tenacious pursuit of ideas in architecture, via built and unbuilt works, that seek to shift our relationship to housing.
The term "speculative housing" has become synonymous with profit generation. But, as an emerging practice, Other Architects' speculative focus is rather on generating propositions, advancing discussion and building a culture around contemporary models of housing through lectures and exhibitions – returning a focus to the inhabitants as we embrace increasingly dense living as a normative model in Australia.
An equally impressive emerging portfolio of built work demonstrates a skilful hand, which collects the practice's foundational research and makes spatial experiences that are intelligent, uplifting and delightful.
Other Architects describes its service as "documented thinking," and its ideas as "scalable, replicable and easily communicated." This broad definition – spanning from the big picture to the detail – leaves the jury excited about Other Architects' future, and its potential to positively impact our collective approach to housing.